New publication:
The Sobering Truth: Incentivizing Alcohol Death and Disability
Vital Strategies has published a new report on how governments, despite the health burden, are subsidizing the alcohol industry. Billions of dollars are given to the alcohol industry every year through tax breaks, marketing subsidies and other incentives, particularly in low-and middle-income countries.
The report, Incentivizing Alcohol Death and Disability, written by Julia Berenson, Ayushi Parvathaneni Pathipati, and Sharan Kuganesan of Vital Strategies, with research conducted by Dora Maradiaga, uncovers the "perverse incentives" given to the alcohol industry. These incentives come in the form of development assistance, tax breaks, marketing deductions, tax rebates and production subsidies, as well as in the form of international trade agreement practices. Often the incentives flow as development assistance from governments in higher-income countries to low- and middle-income countries. Big alcohol corporations headquartered in high-income countries benefit – to the detriment of public health in low- and middle-income countries.
The global health burden from alcohol is considerable with 3 million deaths per year and big contribution to the disease burden from non-communicable and other diseases. Many low- and middle-income countries experience increasing alcohol consumption and growing problems. These markets are singled out as the growth areas of the big alcohol corporations that have become bigger and more concentrated over the years. In 2019, the 10 largest alcohol producers by volume for which data are available amassed annual global revenues of US $187 billion, according to the report.
Little has so far been known about the incentives alcohol corporations receive in the pursuit of new markets, despite significant outrage over government incentives for tobacco. Occasionally the press reports of specific occasions, but now the researchers of this report have examined publicly available data and information from 1995 through 2020 on the amount that governments invest in the alcohol industry and the cost of these actions.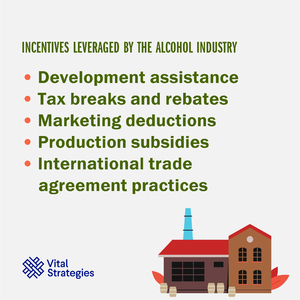 The report contains some illustrative examples of this kind of practice. Since the early 1990s, the European Bank for Reconstruction and Development has provided more than US $422 million for investment in breweries in emerging markets in countries in Central and Eastern Europe. Another example reported is how, from 2009 to 2019, the Netherlands, U.S., Germany, and a U.N. fund gave Heineken—now the second largest beer maker in the world—US $10 million in subsidies and tax benefits for agricultural projects in Africa, which the governments praise as examples of successful aid and trade policy. However, the stated objectives of boosting economic development in African countries are far from being achieved. Heineken's contribution to economic growth, employment and development in most countries is negligible and likely to be negative, if the costs for the economy and society are taken into consideration.
Similar examples are given for all the main categories of such incentives.
See the full report from Vital Strategies here.