Malawi – a natural policy experiment to draw lessons from
Civil society organizations can, when adequately resourced and supported, play an important and productive role in steering policy developments in a sound public-interest direction. This is the conclusion in a recently published article about Malawi in the International Journal on Alcohol and Drug Research.
The article is published in Vol 3, No 3 (2014) of the International Journal on Alcohol and Drug Research (IJADR). This is a Special Issue on International Perspectives on Alcohol Control Policies in Low and Middle Income Countries with Bundit Sornpaisarn and Kevin Shield as guest editors. The article on Malawi presents the recent history of alcohol-policy development in the country, describing changes in the policy process, initiatives to expand the involvement of relevant stakeholders, and efforts to limit the role and influence of vested commercial interests. Authors are Carina Ferreira-Borges, Dag Endal, Thomas Babor, Sonia Dias, Maganizo Kachiwiya and Nelson Zakeyu.
Remaining challenges for alcohol-policy formulation in Malawi are also documented and discussed. The full text of the article can be read here.
The article is based on information generated from a combination of direct and indirect observations, document reviews, media analysis, and in-depth and semi-structured interviews.
It shows that alcohol policy development in Malawi reflects a complex combination of political and social processes, fraught with numerous stakeholder conflicts and political power plays. Malawi was one of the countries where two big brewers, SABMiller and Carlsberg, together with the International Centre for Alcohol Policies in Washington D.C. made an attempt to take over alcohol policy formulation from the government. See documentation here.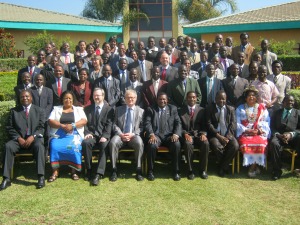 Concerned civil society organisations reacted against this and started a broad and inclusive policy process, involving a broad range of stakeholder locally and nationally. The process was concluded by presenting a draft policy document to the government in 2011, based on best international evidence and experience, combined with input from local resource persons from all over Malawi. The article in IJADR documents how the process was organised and conducted, step by step till the final national validation conference in June 2011(picture right).
The authors, Carina Ferreira-Borges and colleagues, conclude that this type of practical natural experiment provides an important opportunity for learning. "The Malawi case study reinforces the need for more regular policy analysis of similar initiatives—in particular, in low-income developing countries—and for additional study of the alcohol-policy development process and policy implementation".
RELATED ARTICLES