A rapid assessment of the alcohol and drug situation
This article contains a simple tool to make a systematic assessment, however not scientific, of the alcohol and drug situation in a given country or population, by a combination of statistical data and practical experiences.
This article contains a simple tool to make a systematic assessment, however not scientific, of the alcohol and drug situation in a given country or population, by a combination of statistical data and practical experiences. On some of these issues, hard data from research reports will be available, while on other issues one will have to rely on other sources of information; interviews, anecdotal evidence, oral reports and experiences from the field. Local health officers, police, traditional leaders or other key persons in the community may provide useful information, based on their close contact with the local population.
An assessment of this kind can feed valuable information into a baseline description which is made at the start of a programme planning process, either it is based on the Logical Framework Approach, Results-Based Management, most significant change or any other planning tool.
There may be good reasons in a given situation to address the questions in a different order from what is presented below.
1. The consequences of alcohol and drug use
Which are the most frequent negative consequences of taking alcohol and drugs that you observe in your context:
for the users themselves;

for their families;

for friends, colleagues, neighbourhood;

for the local community;

for the society at large?
2. Priority issues
From the list developed in section 1; which do you consider to be the most serious problems resulting from alcohol and drug use in your context?
3. Types of substances
Which types of intoxicating substances are available and are being used in your project area?
Alcohol?

Medicines; legal and illegal?

Solvents for sniffing?

Illegal drugs?

Which of these create the most severe problems?
The next topics are primarily related to alcohol, which normally is the most used of the intoxicating substances. The questions can, however, easily be adapted and used also for other types of substances.
4. Types of alcoholic beverages
Which types of alcohol are the most common in the population?
Homemade traditional beverages?

Industrially produced traditional beverages?

International beverages produced domestically?

Imported international alcohol brands

Which of these types of beverages dominate in your context? Are there any differences between various socio-economic or cultural groups?
5. Distribution systems
How are the alcoholic beverages distributed and sold to the consumers?
Who are the producers or the sources for the various types of alcohol?

Who are the distributors and retailers?

Which other vested interests are involved?
6. Who are the users?
In most cases there will be few statistical data available on the issue of prevalence of alcohol use in local populations. Very few countries have such data for specific regions or population groups. In that case estimates have to be made, based on experiences from the target area and discussions among persons who know the population well. Such a discussion can be very educative in itself, even if the conclusions cannot meet scientific standards.
Questions for discussion:
What is the proportion of non-users and users in the target population?

Number of heavy users?

Gender differences?

Age differences?

Are there differences between religious, ethnic or socio-economic segments of the target population?

Are there special risk groups/vulnerable groups among the users?
The WHO Global Status Report on Alcohol (2011) has prevalence figures on a national level for all countries, which can be used as reference material.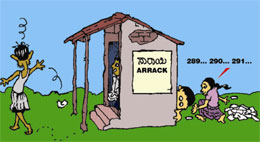 Collection of data on the ground situation may also be carried out as an activity and a tool for involving people already from the start of an advocacy process. A manual on rights-based research from Concerned for Working Children (CWC) in Bangalore, India, offers a very good example of how children can be empowered to document local realities and influence their community
The manual was developed on the basis of activities conducted by children in Keradi village in the Indian state of Karnataka. These children, with the support of adult facilitators, took all the necessary steps to influence the policy of their local government (Grama panchayat/ Grama sabha) and the social life of the village. They began by defining the problem they faced and then found adequate working methods, collected local data, compiled and analysed the data and drew some conclusions. One way of gathering evidence was to collect empty alcohol plastic bags in the village, then to calculate the costs of these bags and finally to present to adults and village leaders how much money was drained from household budgets to alcohol use.
As a result, the children were able to advocate towards adults and political leaders in the community who had previously "brushed" the children's views aside. CWC now has made their manual available to other NGOs which aim to involve children in documentation and advocacy work. Similar types of informal mapping can be done by any local group, not only by children, also by using modern smart phones to produce pictures and videos.
Read more about the manual and download the file here.
7. Consumption levels
How much do people drink? Is it possible to find data on consumption levels in the target population? In many cases, in particular in developing societies, such figures are few and not very reliable, in particular in areas where there is a high level of unrecorded alcohol being consumed.
Recorded consumption

Unrecorded, legal consumption

Consumption of unrecorded and illegal beverages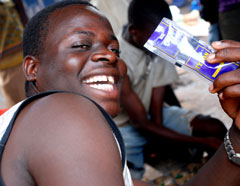 8. Drinking situations
In what kind of situations is alcohol being used?

Regularity of drinking: How often is drinking taking place?

Amount consumed in different drinking situations?

Risky consumption situations: Is drinking taking place in situations where the risk for accidents etc. is high?

Risky user patterns: Is alcohol used in a way that leads to heavy intoxication, reduced control etc.?
9. Drinking contexts
Under which circumstances is the alcohol consumption taking place:
A traditional context (traditional beverages, drinking situations and user groups)

A ritual context (linked to religion, rites or rituals)

A poverty context (urban or rural)

A modernity context (Westernized values, globalization)

A crisis context (conflict, war, disaster)
10. Alcohol expectations
"Alcohol expectancies" are outcomes which people in a given culture attribute to the consumption of alcohol; whether these outcomes are due to chemical effects of the beverage alcohol or due to other psychological mechanisms.
Which expectations are attributed to alcohol use in this particular culture, by the users and by people around the users?

What types of behaviour do people expect from a drunken person?

What do people want to tell about themselves by drinking alcohol or by using certain beverage types or brands?

Are people allowed to or expected to do other things when then are drunk than when they are sober?

Is misbehaviour by drunken people accepted and pardoned?

How much do people typically know about the real effects of alcohol?
RELATED ARTICLES