This was one of the results of the East Africa Conference on Alcohol which was held in Arusha, Tanzania in January. The name of the new network is Eastern Africa Alcohol Policy Alliance (EAAPA). An interim board was elected with two co-chairs; Rogers Kasirye from Uganda Youth Development Link and Dr. Bertha Maegga from Tanzania Public Health Association.
The conference in Arusha was attended by 80 participants from five East African countries (Tanzania, Uganda, Kenya, Rwanda, Burundi) and experts from Nigeria, Sri Lanka, USA and Sweden. Participants included government officials, parliamentarians, NGO leaders, alcohol policy experts, public health practitioners, representatives of the recovering community, the clergy, and the media. The conference was organized by the Swedish IOGT-NTO Movement and sponsored by SIDA.
The Arusha meeting was called to find an appropriate policy response to alcohol-related problems in the East African region. In the recommendations adopted by the conference reference is made to current estimates that indicates that alcohol is among the most significant risk factors for death and disability in Sub-Saharan Africa. In some countries (e.g., Uganda, Burundi, Zimbabwe) per capita consumption is among the highest in the world.
Although most of the African population (55%) chooses not to drink alcoholic beverages, heavy episodic drinking is typical among those who do drink. In 2002 more than two-thirds (70%) of all alcohol attributable injury deaths in men and more than half in women occurred in the 15-44 age group. There is increasing evidence linking alcohol consumption to health and social problems, including high risk sexual behavior resulting in HIV infection, domestic violence, crime, workplace problems, and child abuse.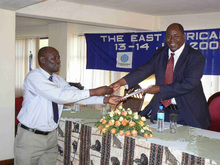 On this background participants of the conference recommended that a number of evidence-based measures be implemented expeditiously in order to build a comprehensive system of legal regulatory, educational and treatment measures to deal with alcohol -related problems from a public health perspective.
At the closing of the Arusha conference the set of recommendations were presented by Rogers Kasirye to the Director General of Customs of the East Africa Community, Mr. Peter Kiguta (picture to the right, Mr. Kiguta to the right). This document will also serve as a guideline for the new Eastern Africa Alcohol Policy Alliance. EAAPA intends to become a part of the global GAPA network; the Global Alcohol Policy Alliance.