Your gateway to information about alcohol and drugs in a development context.
LATEST NEWS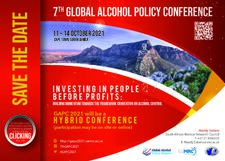 GAPC 2021 online and on site. Keep the dates!
Posted on: 18..11.2020
The 7th Global Alcohol Policy Conference (GAPC) will be held in Cape Town, South Africa, October 12-14. 2021. Due to the uncertainties surrounding COVID-19, GAPC 2021 will be held as a hybrid conference with opportunities for both physical and virtual participation.
News archive ›