Global Alcohol Policy Conference, Seoul, 2013
From local action to global change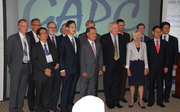 Around 850 participants gathered in Seoul, South Korea, in October for the third Global Alcohol Policy Conference. Being a meeting place for policymakers, advocates and researchers, the three day program included more than 120 presentations in 32 plenary and concurrent sessions.
2013-10-22
Papers from the Global Alcohol Policy Conference 2013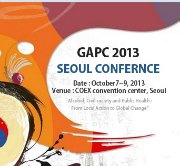 The second Global Alcohol Policy Conference was held in Seoul, South Korea, 7 - 9 October 2013. During the three deys a substantial number of papers were presented on the conference theme "From local and national action to global change". Some of these presentations are available for download in the article below.
2013-10-21
First African KBS meeting for alcohol researchers held in Uganda

"The price we are paying for the drinking culture in Africa today is that we loose many of our young people", said Professor Isidore Obot (Nigeria) in his overview of the African situation at the KBS meeting in Kampala, Uganda.
2010-11-25
"Reconstructing manhood", Oslo, 26-27 October 2010
Material from the Masculinity Conference in Oslo
Below you will find presentations, material, links and other resources from the conference "Reconstructing manhood", Oslo, 26-27 October 2010:
Special Issue of AIDS and Behavior:
Current issues in Alcohol use and HIV research and prevention in India

A recent supplemental of the journal AIDS and Behavior is a collection of recent work by Indian researchers and Indo-U.S. partnerships, examining the intersection of alcohol and HIV in India.
2010-10-20
Documentation from Alcohol Policy Conferences in Malawi November 2008
"As a developing country Malawi cannot afford to divert our scarce resources from basic needs such as education and food to alcohol consumption".With these words the Malawian Minister of Home Affairs, Hon Earnest F. Malenga, opened a conference on alcohol as an obstacle to development on the 12th of November 2008.