Important step taken:
No Ordinary Commodity published in Mandarin language
The key publication to evidence-based alcohol policy interventions, Alcohol: No Ordinary Commodity, is now available also in Mandarin Chinese language. This is an important move towards spreading this knowledge base to much larger target groups. The book is now published in English, Mandarin, Korean, Spanish and Thai.
The WHO sponsored research monograph, Alcohol: No Ordinary Commodity, has since its first edition was launched in 2003, been the most authoritative source for knowledge on effective alcohol prevention interventions. A revised and updated version was published in 2010.
The Mandarin version of Alcohol: No Ordinary Commodity was first presented at a launch event in Kuala Lumpur, the capital of Malaysia. The leader of the group of authors, Professor Thomas Babor, introduced the book by a keynote speech titled "The gathering storm: Alcohol abuse in Asia and the Pacific and the Public Health response".
The new book is a result of a collaboration between IOGT International and the New Era University College in Malaysia. At the launch event the President of IOGT International, Sven-Olov Carlsson, called the book a "landmark achievement in the global efforts to prevent and control alcohol harm through evidence-based, cost-effective and high-impact policy measures". Resource persons at the lauch event in Kuala Lumpur are seen in the picture to the right, with Professor Thomas Babor in the middle.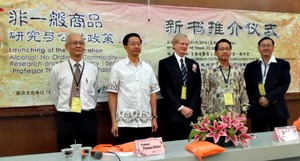 The IOGT President referred to the fact that Alcohol: No Ordinary Commodity is already translated into Korean, Spanish and Thai languages. Said Mr. Carlsson, "Like the English- or Spanish speaking communities, also the Mandarin-speaking community in the world knows about the burden of alcohol harm. They know the impact on individuals, families, their communities and society".
Read more about the launch event here.
Mandarin is a group of related varieties of Chinese spoken across most of northern and southwestern China. It has around 960 million native speakers, which makes it by far the most widely spoken language of the world, more than English, Spanish and Russian together. Mandarin is the official language of the People's Republic of China, in Taiwan, Macau and Hong Kong, it is one of the four official languages of Singapore, as well as widely used among Chinese diaspora communities in many countries, like in Malaysia.
A distribution plan is now being developed with a view to reach key academics, policymakers, NGO leaders, libraries and government officials in Mandarin speaking communities around the world. This plan includes a web site where the various version of the book can be accessed and downloaded.
RELATED ARTICLES