Alcohol nourishes gender-based violence in Rwanda
Every third man who has been drinking alcohol beats his partner according to a study in Rwanda from 2010. The cultural norm constituted in a society like Rwanda is that the man decides, men dominate. It is a characteristic for many countries in Africa where women's rights remain subordinate to those of their husbands.
2011-02-18
Men of Quality are not afraid of Equality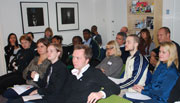 This was one of the messages that came out of the conference "Reconstructing Manhood?" which took place in Oslo 26-27 October. The conference was the first of its kind in Norway, presenting experiences from engaging men in developing countries to a Norwegian audience.
2010-11-05
"Reconstructing manhood", Oslo, 26-27 October 2010
Material from the Masculinity Conference in Oslo
Below you will find presentations, material, links and other resources from the conference "Reconstructing manhood", Oslo, 26-27 October 2010:
KBS conference in Uganda
Researchers to discuss epidemiology and policy
The Kettil Brunn Society KBS will hold a thematic meeting on alcohol epidemiology and policy in Kampala, Uganda in November.
2010-05-14
One man can!

Men can be mobilized to change men and harmful images of masculinity. Men can be a part of the solution! This was the optimistic message from Kenya and South Africa at a FORUT seminar in Malawi recently.
2009-06-17
FORUT affiliates to new global network for gender equality

A global network - MenEngage - for involving men in promoting gender equality is now being established. FORUT Norway has joined the network.
2009-01-21
New research reports:
Men drink, women suffer - also in Malawi

"When he's drunk, he becomes mad, he talks at the top of his voice, he beats me and he eats all the relish in the pot, which is not good. I am like a slave to him. I am not happy at all. I don't enjoy marriage because we have no food, he spends his money on drinking and he comes home late'.
WHO report:
Changing men's behaviour can improve women's health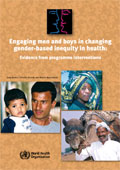 By innovative and well designed programs it is possible to involve men in changing sexist, risky and violent behaviour. This is the conclusion of a WHO report which has reviewed 58 programs aimed at engaging men in changing male identity and behaviour.
2008-01-21