CND 2014: Health, prevention and treatment
The 57th Session of the Commission on Narcotic Drugs (CND) was concluded in Vienna by Member States adopting 11 resolutions. A Joint Ministerial Statement on drugs was adopted by a High-level meeting prior to the CND session. The documents stress the importance of health, prevention and treatment in countering world drug problem.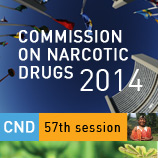 The Commission on Narcotic Drugs is the policy making body of the United Nations in narcotic drug issues. The CND has for the time being members from 53 countries , representing the various regions of the world. The Commission meets annually in Vienna. The key purpose of this year's session was to prepare for the UN Special Session on drugs in New York in 2016.
The 57th session of the CND began with a High-Level Review meeting and the adoption of a Joint Ministerial Statement on the world drug problem. The following week the CND held its regular session, with as many as 1,300 participants from 127 UN Member States, intergovernmental organizations, UN bodies, civil society, and media attended the opening, plenary sessions, and numerous side-events.
The CND meeting adopted in total 11 resolutions covering various aspects of the global drug problem, such as alternative development, substance use disorders, new psychoactive substances, ensuring adequate services for drug abusers and evidence-based drug use prevention.
The Joint Ministerial Statement from the High-Level meeting highlighted the importance of health, prevention and treatment, including protection against HIV, as envisaged by the conventions.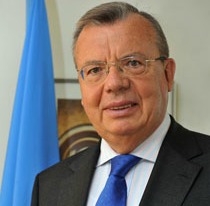 Speaking at a press conference following the High-Level meeting, the UNODC Executive Director Yury Fedotov (picture right) said, "The provisions of the conventions are indeed flexible, human rights based, and founded on the protection of health. I would like to stress particularly the need of strengthening the public health in a comprehensive, balanced, scientific evidence-based approach, that is very important, and fully consistent with human rights standards."
RELATED ARTICLES